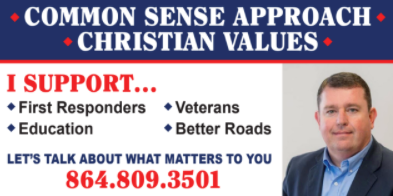 I would like to take a few minutes to introduce myself. My name is Brian Lawson. I was born and raised in Spartanburg, SC and graduated from Paul M. Dorman High School. For the last eighteen years, I have resided in the Chesnee area of Cherokee County. My wife Karen and I will be celebrating our eighteenth wedding anniversary later this year. We have a daughter, Kalyn and a son, Brayden. I am a member of Arrowwood Baptist Church in Chesnee, where I serve as a Deacon and one of the RA leaders. I have been employed as the Director of Operations at American TransMed, Inc. for the past seventeen years and currently oversee approximately one-hundred-fifty employees who work out of five locations throughout South Carolina and North Carolina. I also serve as the Vice President of the board for Chesnee Community Youth Athletic Association, where I have coached baseball, softball, football, and basketball for the past several years.
I have spent most of my adult life serving others. I served as a volunteer firefighter for over fourteen years, in several positions including Assistant Chief of two different departments. I also worked as a career firefighter for a couple of years, obtaining the rank of Captain. I served for two years as a Reserve Police Officer and have been a National Registered Paramedic for approximately twenty-two years. I previously served several years on the board of Cherokee County First Steps in various roles, including Vice Chairman. I served as President of the South Carolina Ambulance Provider's Association, where I oversaw the merger of that association in with the South Carolina Emergency Medical Services Association. I then served on their board for four years, representing the private ambulance providers in South Carolina.
If you choose me to represent you in Columbia, I plan to work closely with Senator Peeler and Representative Dennis Moss, along with other representatives and senators, to tackle the issues that are important to all the people of South Carolina House District 30, and to the people of the counties we serve. If you live in SC House District 30, feel free to fill out the contact form or call me directly at 864-809-3501 to discuss matters of importance to you.